Long story short, I got an email late Wednesday night from another knitter friend saying, "Hey Claire, you still interested in going to NYC Thursday?". I responded that I had childcare lined up & $$ set aside, just couldn't get to the train. She doesn't live far from me, and said she could drive to the train - she wanted to go, and wanted company. WOOHOOO!! We finalized childcare Thursday morning - since Boo had gotten sick, I wasn't taking her to my Mom's, and Edwin very graciously offered to take a half-day at work so he could come home and care for Boo. :) I thanked him, and met up with my friend S - who I was really looking forward to spending time with & getting to know better, as she's an Unschooling mom, too.
We found ourselves in New Haven waiting for the 2:37pm train to Grand Central.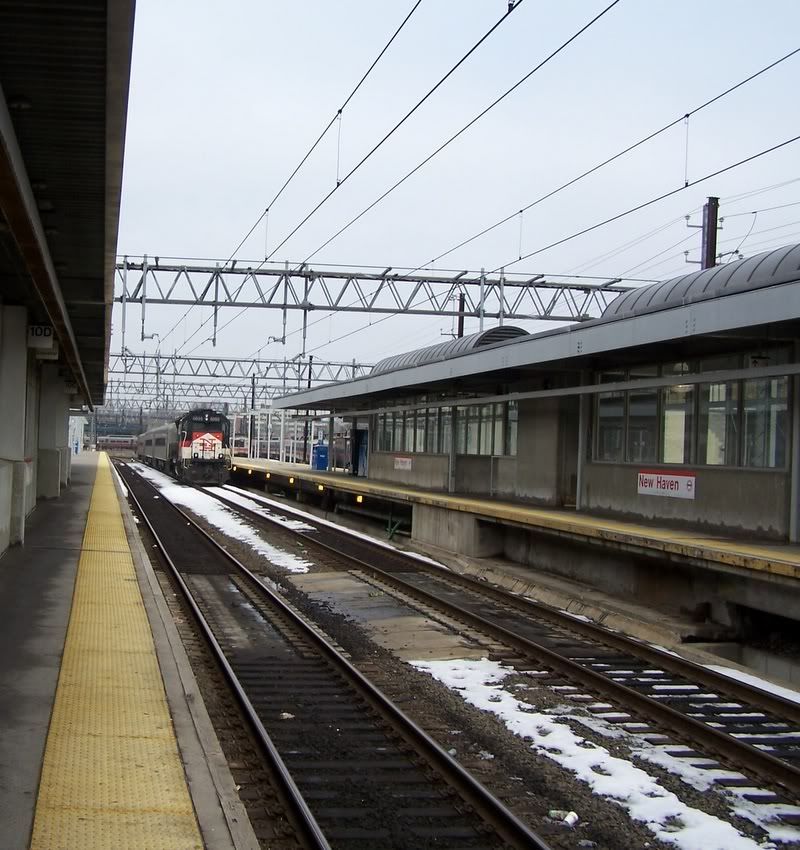 Once on the train, the photoblogging started in earnest - with the view from our seats.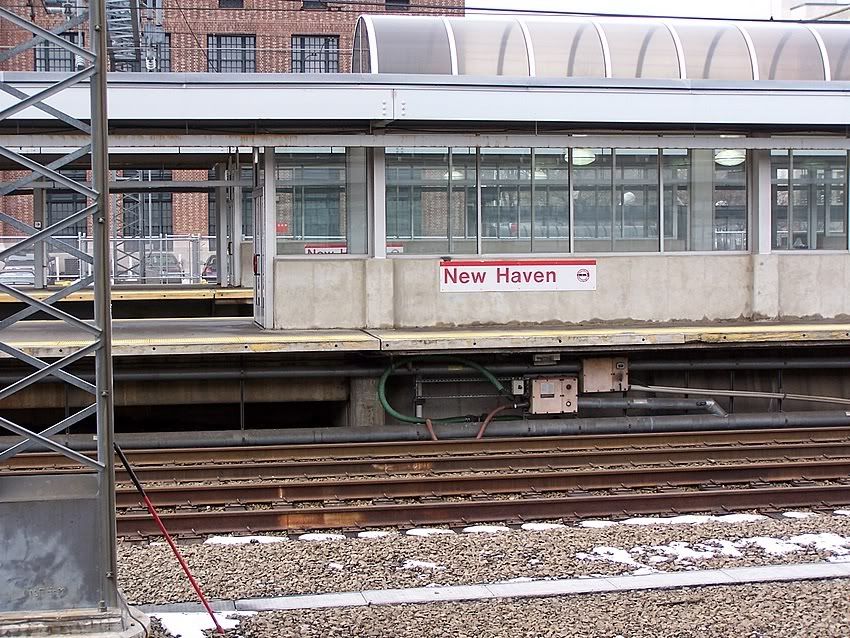 S and her sweater,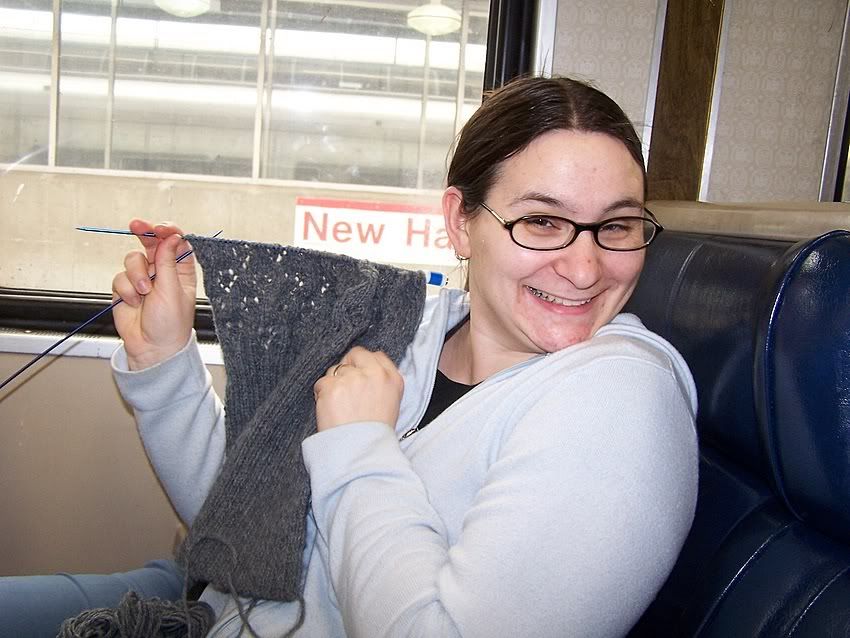 I and my third balaclava,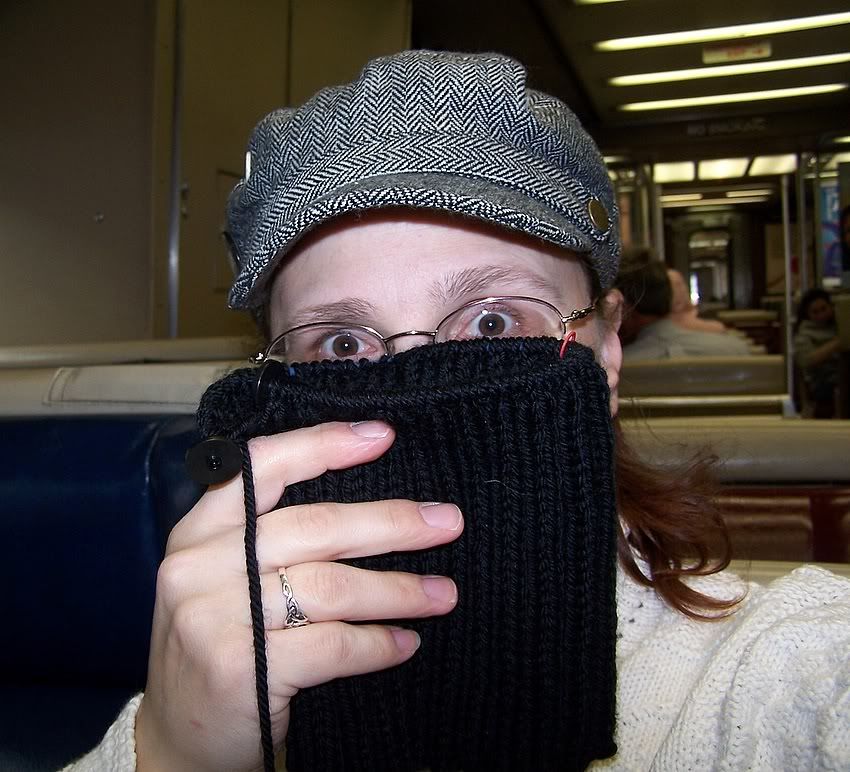 ...and both intrepid knitters, ready for our adventure: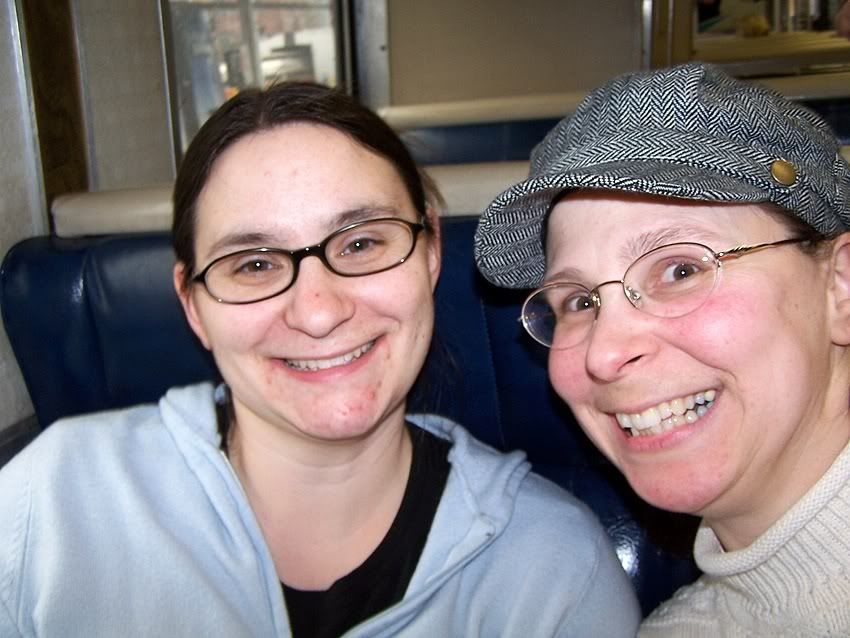 We arrived in Grand Central Station in NYC with no complications, jumped on the shuttle to Times Square, then the train up to 27th. I think. Anyway, we then made our way up to The Fashion Institute of Technology, where
Stephanie Pearl McPhee
was having her book launch for her latest book.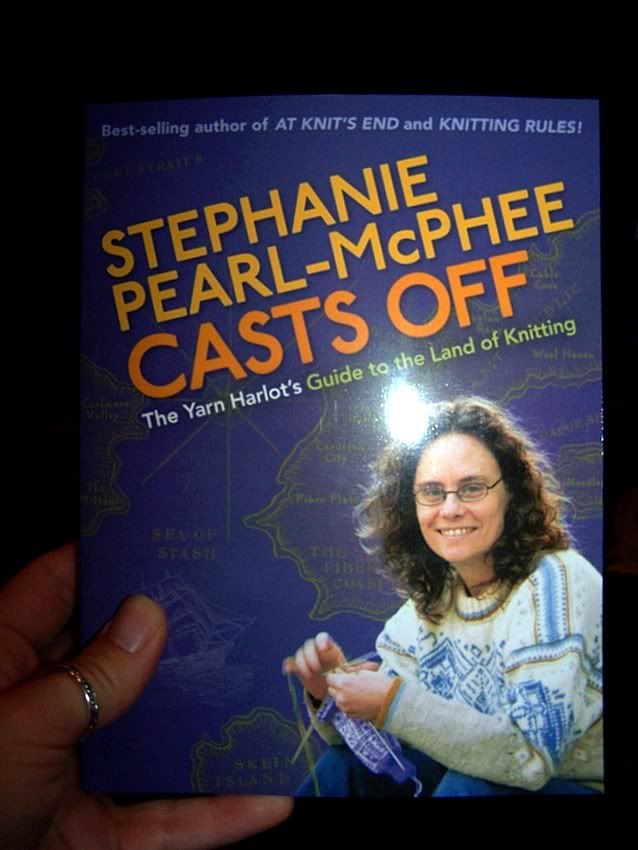 We knew we were in the right place when we saw knitters, and a big-ass poster: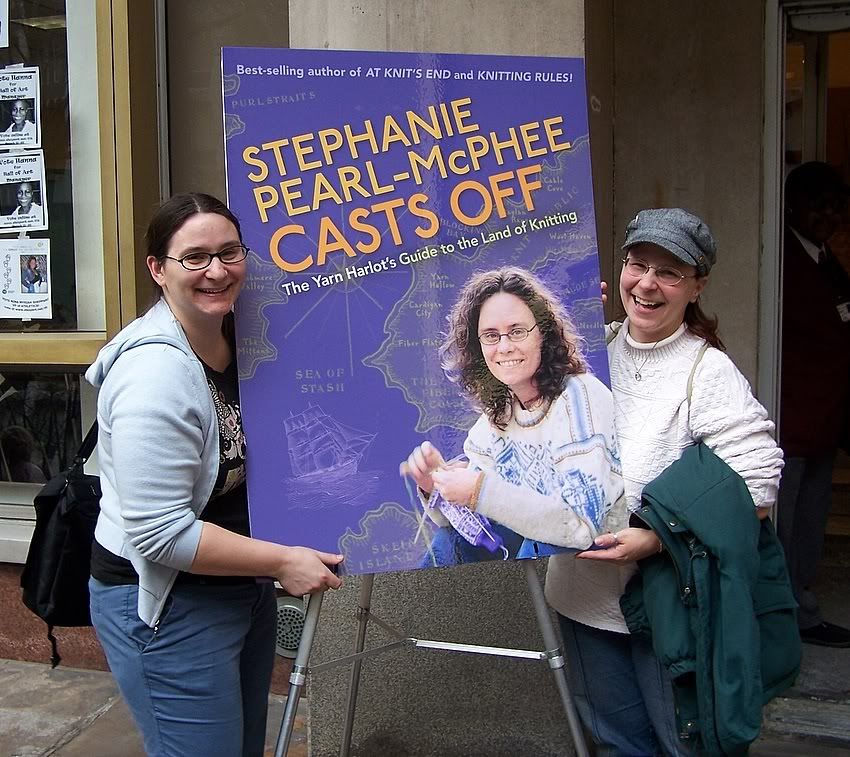 The gentleman who so kindly took our picture turned out to be none other than Guido (2Skiens) Stein, author of the "It's a Purl, Man" blog & podcast (available on iTunes, natch). He interviewed both S and myself, and I'm hoping to hear us next week (month? I'm not sure how often his 'casts come out, as I'm new to his territory) - and we had our pic taken with him on his camera, which will most likely make it up on his site soon. Fun stuff, Knitting Celebs! Here's Guido interviewing S: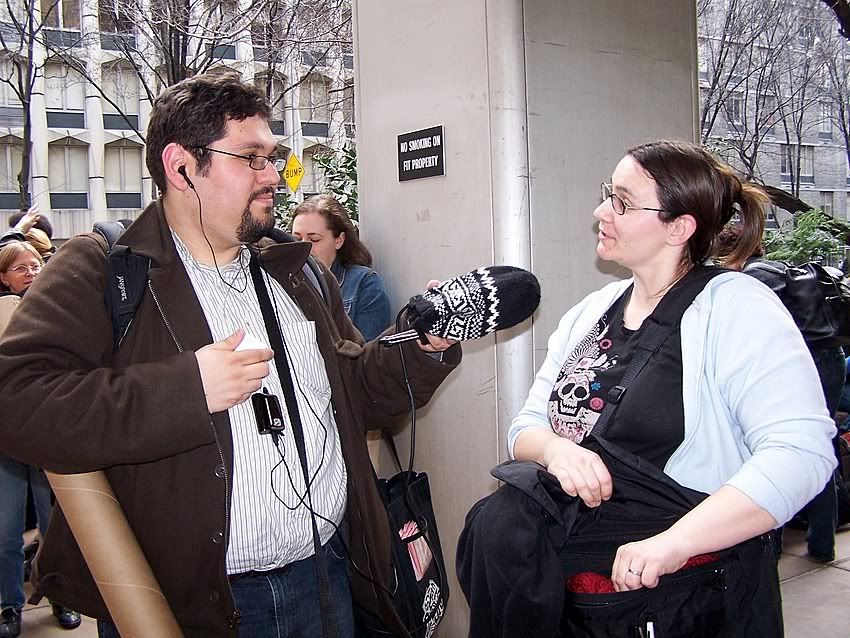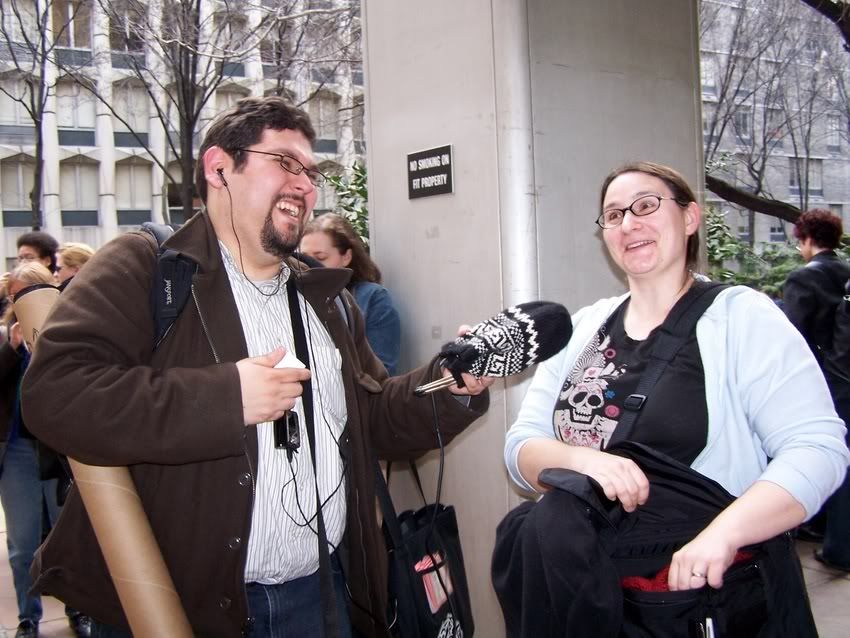 Then, since the doors opened at 5pm and it wasn't quite that yet,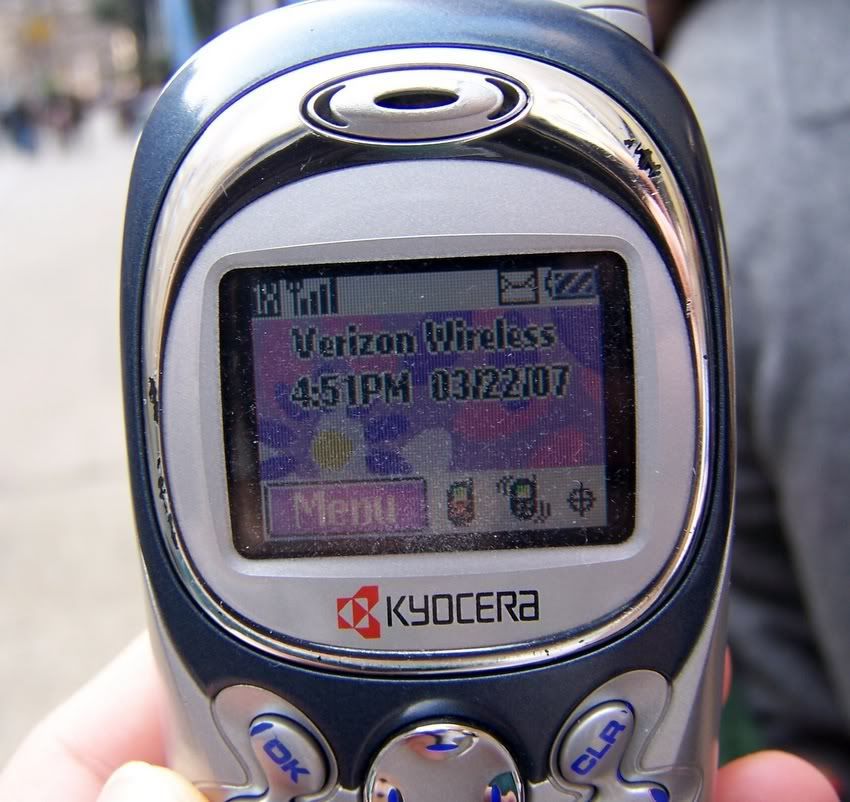 we queued up like good little knitters.
I took photos like a...well, like a tourist...while S put the time to good use: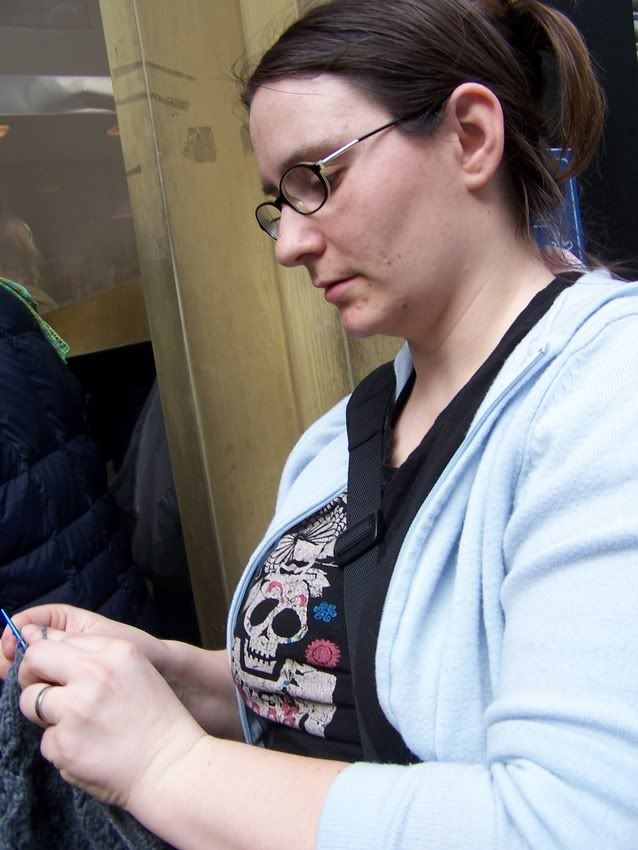 When we got inside, the Haft Auditorium (which seats 750) was just starting to fill. People who had "pre-boarded" had taken their seats,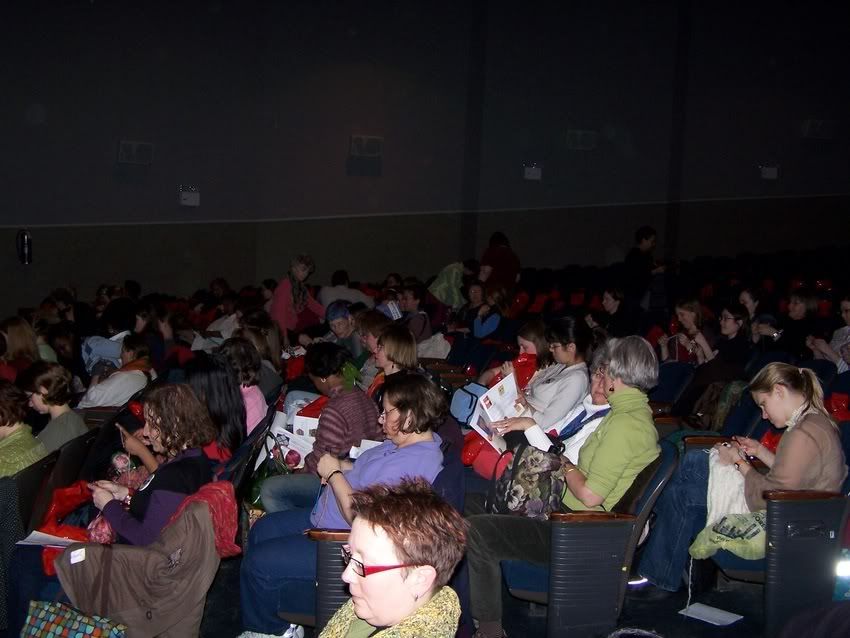 so the rest of us could now filter in. We moseyed down, picked our spot, and found...GOODY BAGS!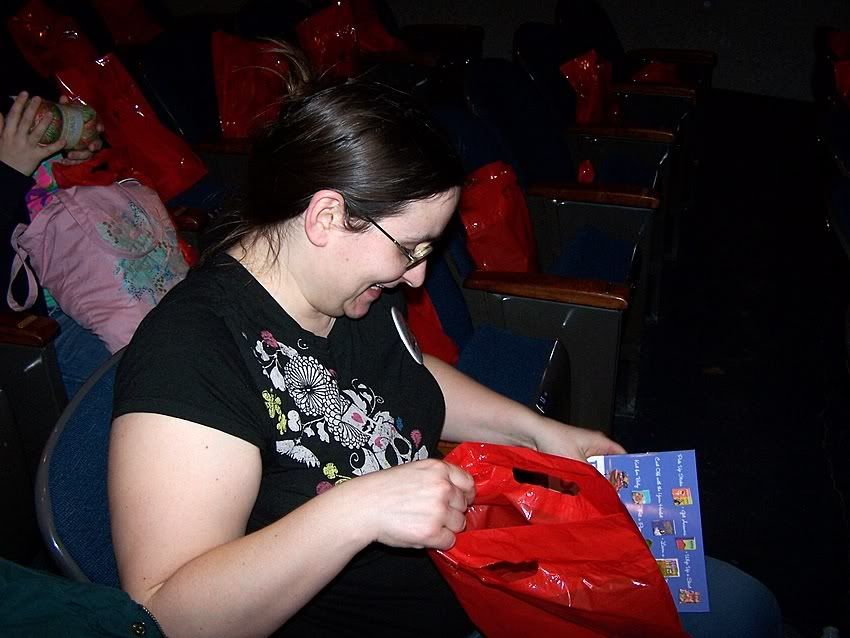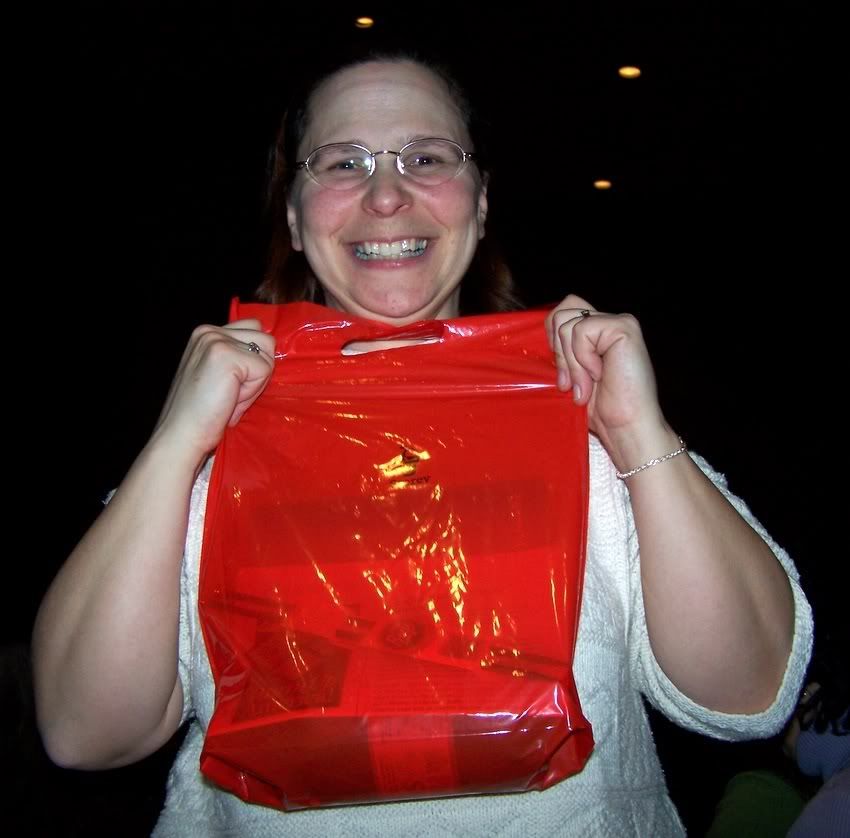 They contained Boye Needles & Patons SWS Yarn, and instructions to make a square (7x9") for Warm Up America.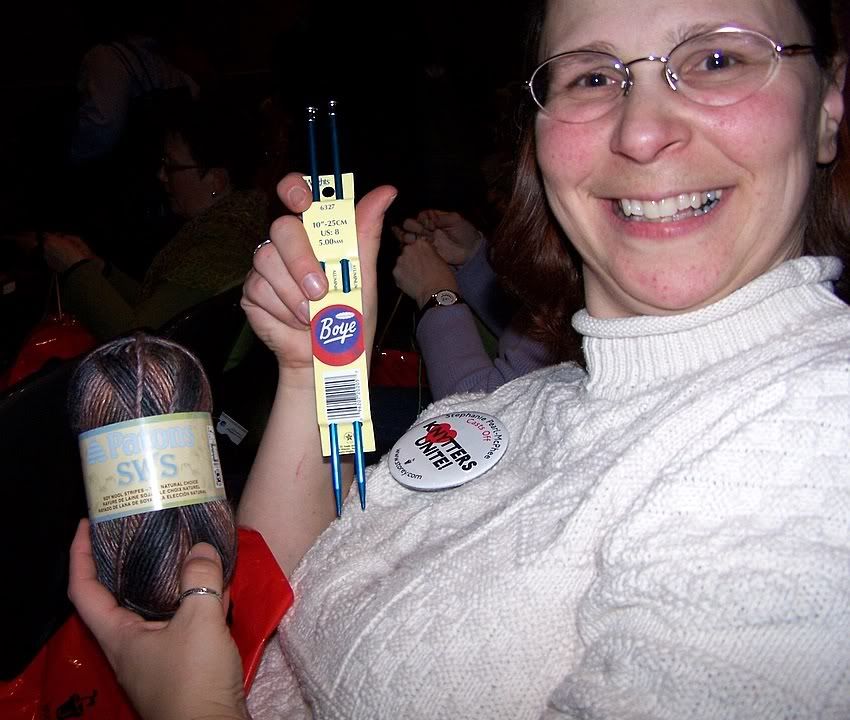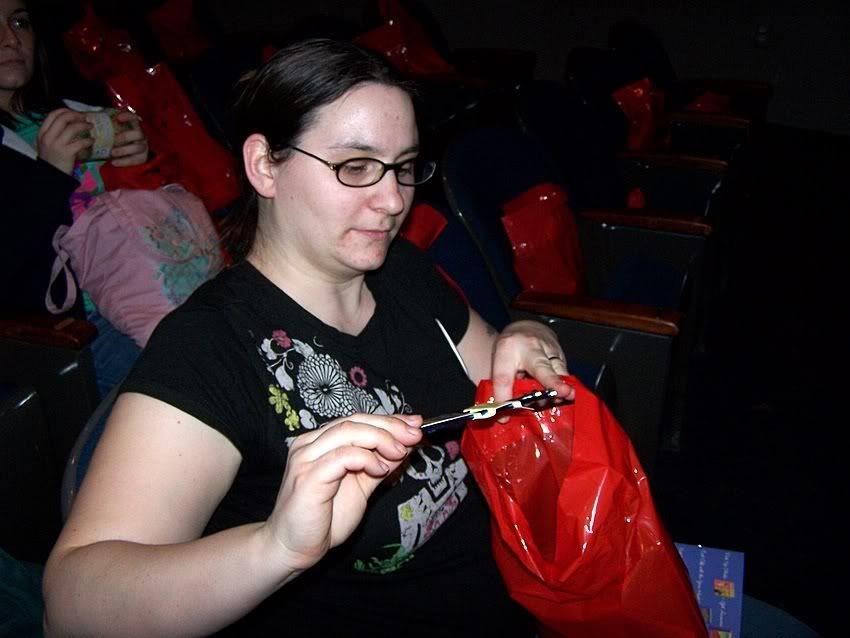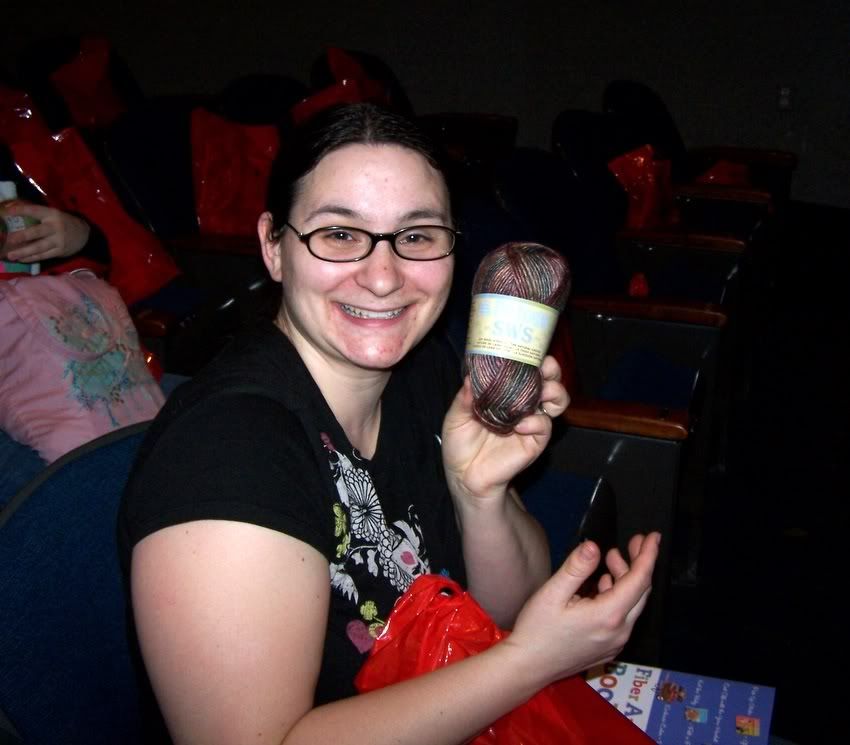 Then it was time for Stephanie to make her appearance and deliver pearls of wisdom...which she did, in spades - and had us laughing and cheering and gasping in horror & indignation - and reminding us how lucky & blessed we all were to be who and what we were: knitters in community with other knitters, all using our talents to show how we cared about our fellow humans - regardless of their fiber leanings, or lack of such.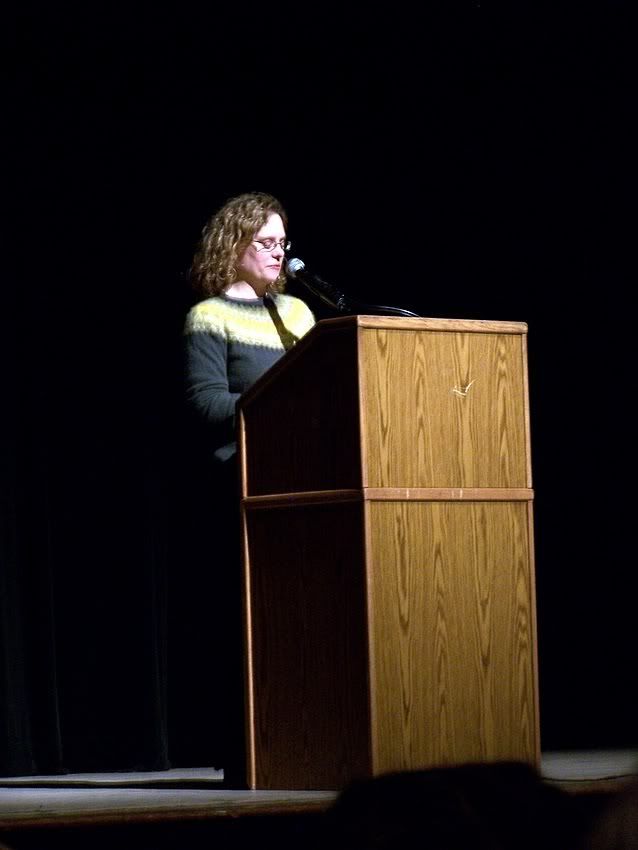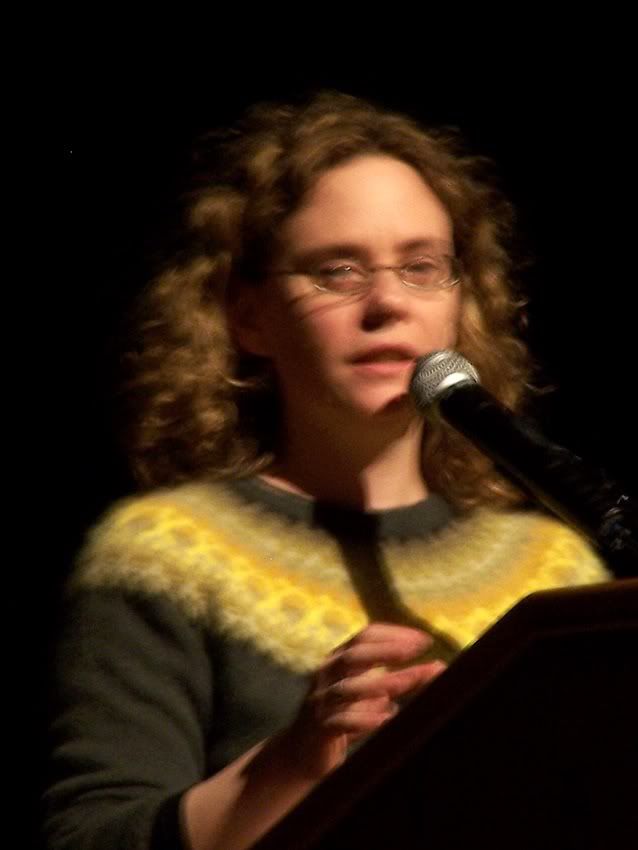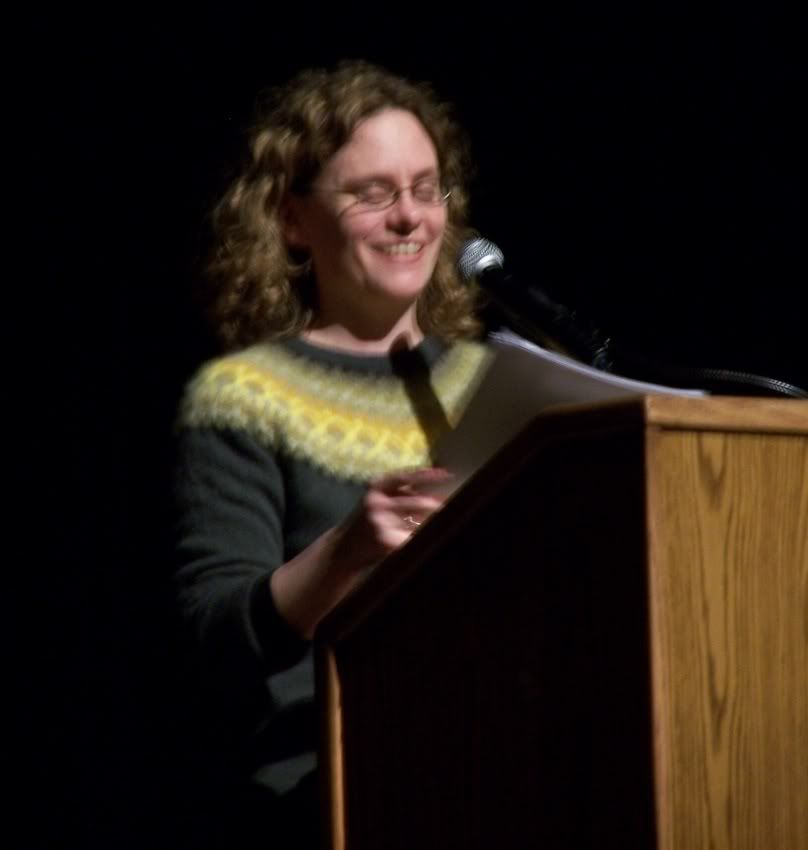 As S and I were listening and knitting our squares,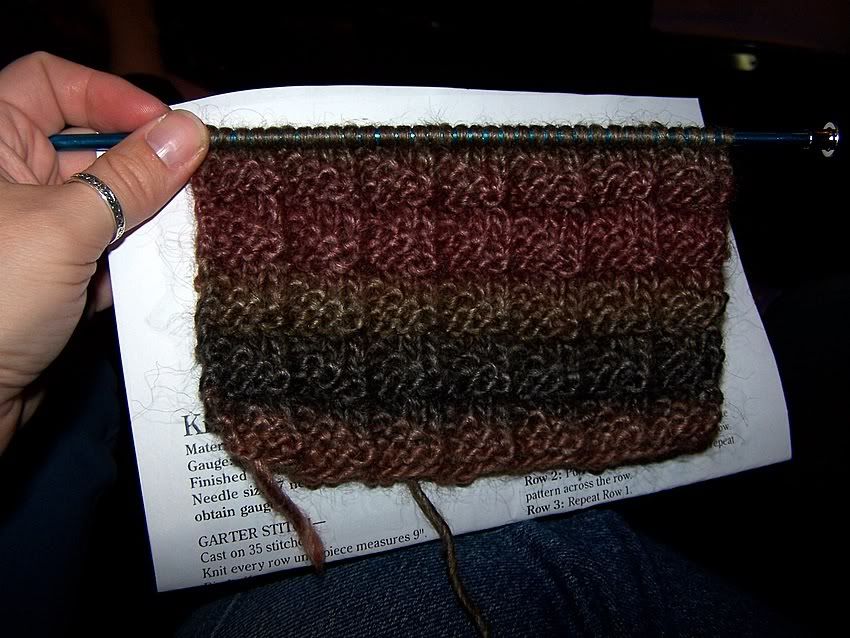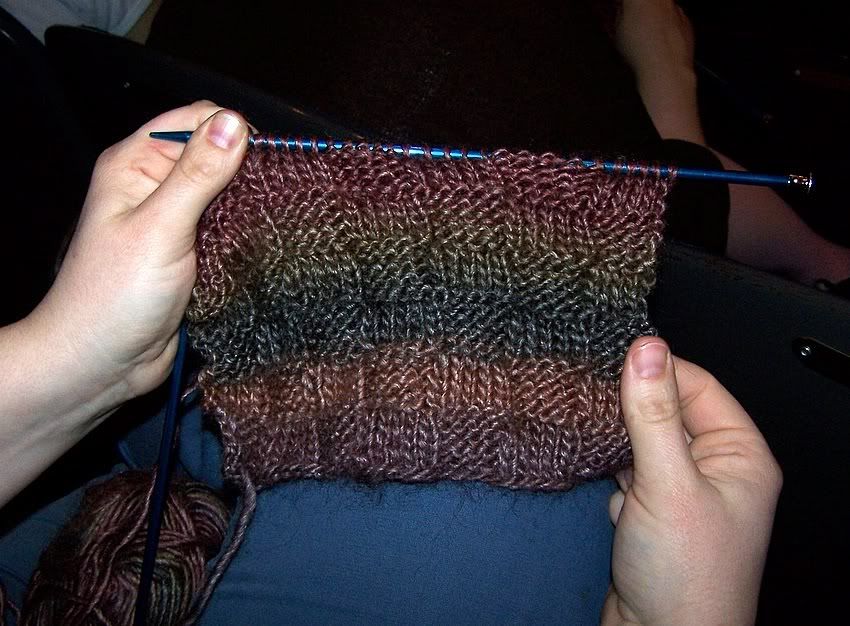 I glanced around the room. There were knitters to the left of me -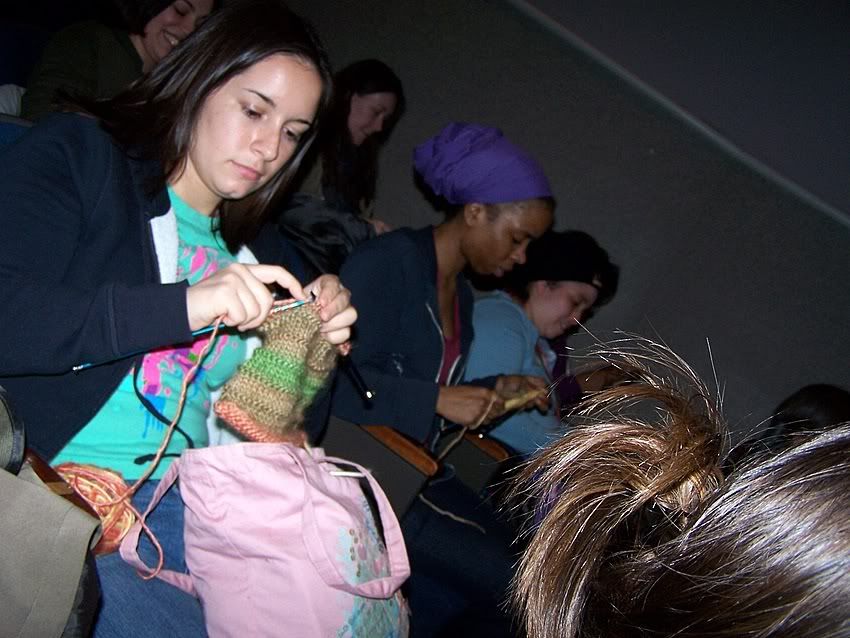 knitters to the right of me...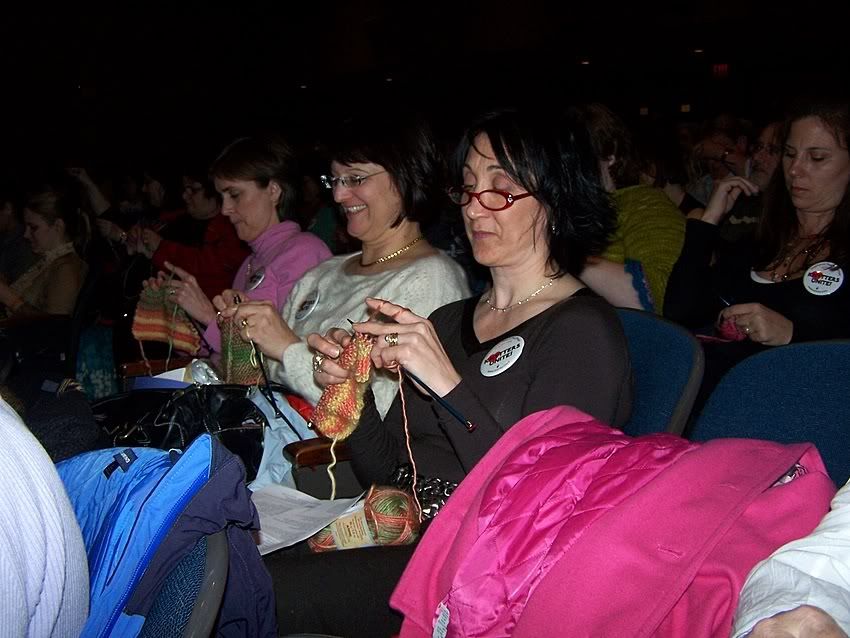 and then S got up to take a picture of the almost-filled auditorium: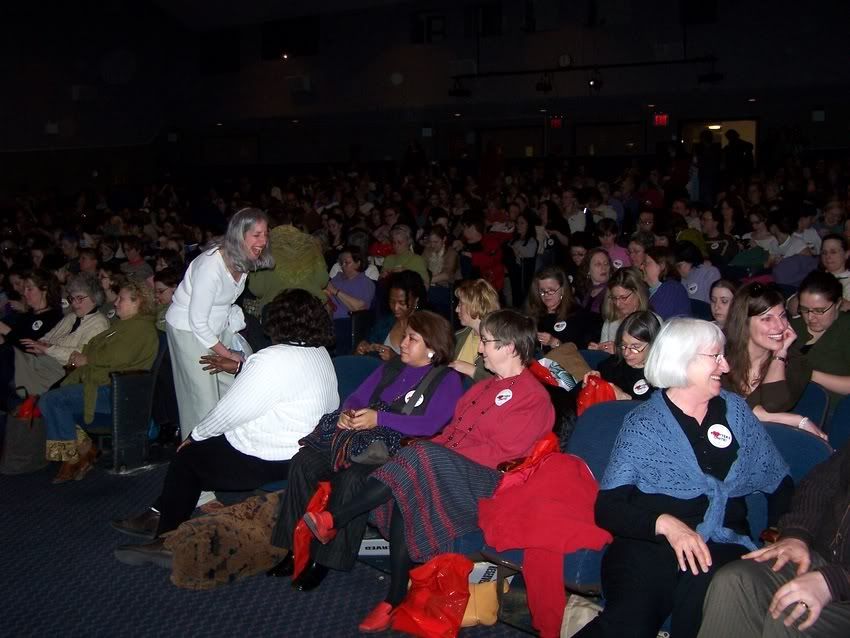 SEVEN HUNDRED+ knitters & crocheters.
Yeah, think about that for a minute.
750 seat auditorium, and there were only a handful of empty seats left.
All this by word of mouth, and a few blogs - no other advertising. :) Go, Us.
After a few hours went by, things were winding down. We listened to the Q & A session for a while, then decided to head back to GCS for supper before grabbing our train home. I loved the tile Station Signs in the subway, so I took a picture of one:
We had a QUICK supper, then caught the 9:37pm train home. We got into New Haven by 11:30p or so (maybe a bit later), and S kindly drove me home. I arrived here approx. 12:30p, and bedded down quickly after. Got up this morning at 7:30a for work, and I am now EXHAUSTED. It's almost 11pm, and I am planning on getting up at 7am again tomorrow, to take Boo to the pancake breakfast at our local nature part. They're serving pancakes with their own local maple syrup that they've actually collected and boiled down right there in the park, at their own sugar shack. Boo & I collected a pail of sap for the efforts ourselves! :) Then it's off to work to help my client take a bath - and then, who KNOWS what. Maybe...a nap?? One can hope. In the meantime, I'm heading to bed, hopefully to sleep. :)