So, I've gone & Done it - I've joined an exchange - and it sounds like it'll be fun! The "Spring Felted Bag Exchange" - I love felting bags, and well, it seemed like the thing to do at the time. :)
Without further ado, my answers to the questionnaire!
1. How long have you been knitting or crochetting? How did you learn?
I have been knitting for two & a half years now, and just learning to crochet in the last year. I started by teaching myself from two books - "Knitting for Dummies" and "Stitch & Bitch", and then I joined a local SnB. It's rolled along from there!
2. What are your favorite yarns to knit\crochet felted bags with?
I honestly haven't tried too many yet; so far I've felted Cascade 220, and Paton's 100% wool. I'm trying a new one now, I can't remember the name - but I've liked what I've tried, and would love to try a bunch more!
3. What are your favorite needles to knit\crochet with?
My husband gave me a set of Rosewood needles two years ago for Christmas, and I've got to say, I LOVE using them. :) I've been using my Denise's mostly for the felted bags, tho I've also got a set of Addi's for that.
4. What are the last 3 bags you knitted\crochetted (include URL for Yahoo! or flickr album or
your blog if you have them!)? You can also link to patterns if you don't have pictures of your finished objects!
Actually, so far I've only knit the Sophie bag from MagKnits...about 5 at present count. I think it's a very neat pattern!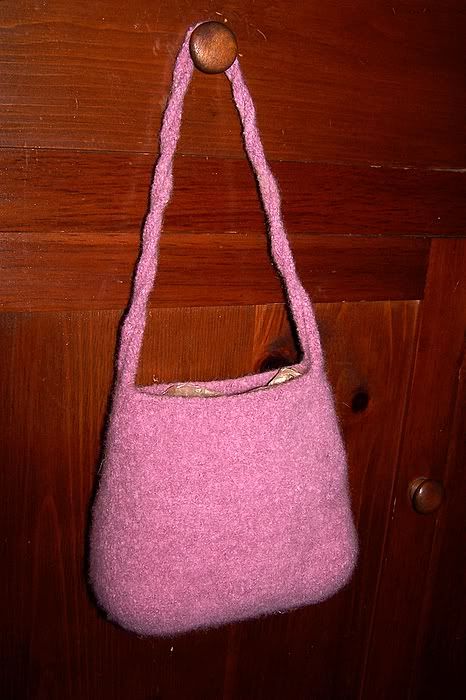 5. Do you carry the bags that you make, give them as gifts, or both?
Haven't been able to make one for myself yet! :) I'm hoping to make myself a Lucy bag soon, tho.
6. What is your favorite felted bag that you have made for yourself?
N/A
7. What are your favorite colors? Do you like bags in these colors or choose other colors?
My favorite color is Red - I also love Purple, Magenta and Deep green. I love basically Jewel-tones, no pastels. I think when I finally make myself a bag out of yarn I've CHOSEN, it'll be in some of those colors!
8. Chocolate: White, Milk, Dark, or not so much?
DARK Chocolate, please - Non-dairy Dark Chocolate. I'm severly lactose intolerant, so Milk and White are out. Usually Dark is non-dairy, but Godiva and Lindt kindly put cream or lactose in their stuff. GAH!!

9. Coffee, Tea, or Milk?
TEA TEA TEA TEA TEA TEA TEA TEA! I am married to a coffee addict, but I'm a Tea Girl all the WAY! My current favorite is Bigelow's Constant Comment, but I also love Scottish (PG Tips) and Irish (Lyons)...Basically, the only tea I don't like is Herbal tea. No Peppermint, Fruit, funky flavors (kiwi vanilla strawberry, etc.). :)
10. Do you prefer sweet or salty treats? What kinds?
It depends on my mood; as I said, I love Dark Chocolate. I also love Potato Chips, and OOOOH, Potato STICKS! :)

11. If you went into Bath and Body Works and could only come out with one item, what would it be and what would it smell like?
Ohhh, that's tough. I don't go in there too much, so I don't remember what's in there. Um - probably something Bath-related. Bubble Bath, or a soak, or bath bomb. The scent might be Vanilla, or Peach, or Sandalwood, or Melon. I don't like Chocolate-scented bath products, but I like other fruit scents.
12. Do you enjoy any other crafts or hobbies? Do you collect anything?
I LOVE Photography, and I do a lot of reading. I have lots of cats - and I foster cats - as for collecting, I collect PENGUINS. :) Mugs, Hats, if it's useful and has penguins on it, I LOVE IT! :)
13. Are there any bag patterns you have not yet knit, but hope to someday?
The Lucy Bag - which I own the pattern for and will knit it ASAP; and I kind of like the look of the Booga Bag.
14. What is currently OTN (on the needles) for you?
One entry back, I detailed the TON of projects I have OTN just now! :)

15. What is your most recent finished object before that?
Two Balaclavas, one for my husband and one for a friend in VT.

16. What's cutest: Puppies, Piggies or Pixies?
OOOOH...PENGUINS!! ;) Hey, it's another "P" word, it counts. :) Or...Piggish, Pixie Puppies?

17. Do you enjoy reading? Books, Magazines, or both?

I LOVE to read, and I'll read anything I can get my hands on. Books, Magazines, Cereal Boxes, Pamphlets, Brochures, Junk Mail...LOL. :)

18. Do you have any children? (kid-kind or pet-kind apply!)
I have one daughter, 5 & 1/2 yrs old - in my blogs, she goes by her nickname, "Boo". I also have 8 cats of my own, and 7 fosters. I do love my "kids"!
19. What are some of your favorite yarns for other projects?

I LOVELOVELOVE Malabrigo - Sigh. I like trying new yarns, too, and love Acrylics and Natural Fibers equally, for different things.

20. And for the final question, one I see debated all over: Novelty Yarn: Love it! Hate it! or It depends!
I DO love me some Novelty yarn. I wouldn't knit EVERYTHING with it, but it's a lot of fun for accents & the like!