Hello, my friends...as I promised yesterday, I am back to impart to you (and just write down before it's lost forever in ma brain) my personal recollections of the Grafton, MA stop on the Yarn Harlot's 2006 Spring Yarn Crawl...er, book tour. Same diff, when it's knitting, eh? Go 'head, disagree with me.
Thought not. ;-)
I'll start at the beginning by saying that when I realized WEBS might not work out (thank you all for your helpful suggestions, btw!!) for Saturday, I had to be creative. I checked the tour schedule, Google Maps, and then with my friend Priss-Cilla, in that order. Said, "Listen, I know I said we'd go to Northhampton on Saturday and be silly about yarn - but how 'bout we try doing it Friday night in Grafton instead?" Luckily, Priscilla has known me long enough to run with it, and run we did. We both ditched our kids with the respective male half of the parenting equations, and hit the road.
I have to pause here and say that Priscilla is a heckuva date, and I mean that in the nicest possible way! She knew my schedule Friday was
beyond
hectic, and that I probably wouldn't have gotten to eat by the time I got to her house. Turned out, she had dinner waiting for me, and I ate the tastiest Vegetarian Egg Fu Yung in the car on our trip - and here I thought I'd be knitting a sock in the car on the way up~! Her idea was much tastier, to be sure. :-)
Right, sorry, I was talking about knitting and The Yarn Harlot a ways back, wasn't I? Sorry, back to business.
A zip up the Mass Pike and a few muttered, "I don't see any street signs..." later, I pointed out Classic Yarns of Grafton on the left, and we veered - sorry, politely signaled and drove into the parking lot. It was just 6pm and turns out, we were right on time. The place was PACKED already, SRO, and it wasn't that big of a place to begin with. A truly nice Yarn store, to be sure, and one I'd enjoy spending time in when I could actually move around in it, but it was such fun to stand arm to arm with other ladies (and two gents), talk and knit together. Priscilla was amazed! She'd never read Stephanie's blog, y'see, and had only heard of her about two weeks ago when I suggested this crazy idea. :-) That's me, the Enabler - nice ta meetcha.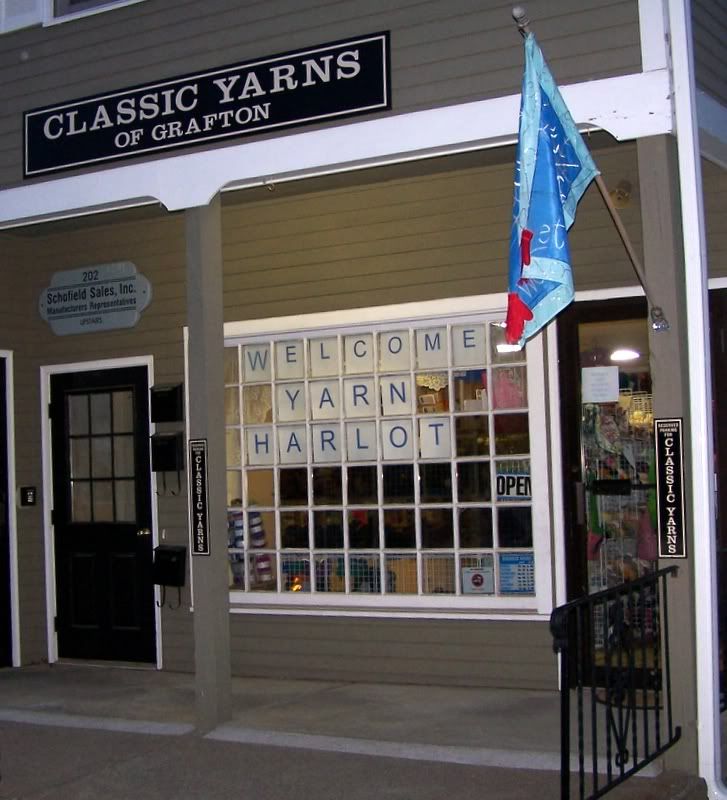 So, we're inside, and Stephanie appears on a stool (THANK YOU!!) so that we could ALL see her; as I mentioned it was mostly Standing Room Only, tho some in the front could & did sit on the floor. The obligatory Sock was produced, and photos were taken: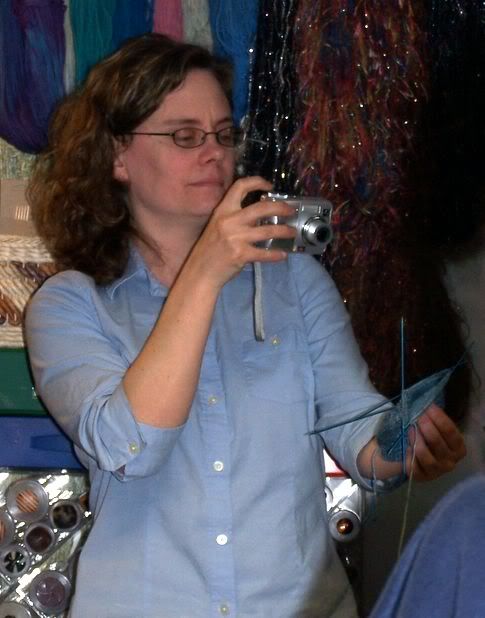 We all giggled and took pictures back (no kidding, lol), with the resulting flashes prompting Stephanie to comment that if she didn't know better, she'd think she was having a stroke - I felt guilty as I snapped my pics, but obviously, not guilty enough. ;-) Hey, I like taking pics, and I tried to be very considerate!
Then, the talk started - and while Stephanie gave us the option of just asking questions OR hearing her give her prepared talk, we ALL overwhelmingly chose the talk. Thank Goodness, because it was HYSTERICAL. I kid you not! I was wiping tears from my eyes I was laughing so hard, and I was tickled pink that I could hear Priscilla behind me laughing long and loud, too. YAY, my friend is having a great time!! YAAY!
The stories were fantastic, the descriptions spot-on; even the stuff I had read bits about in her blog were brought to life by Stephanie's voice and expressions plus hand gestures. Her face is Amazing! No, really - we all know that Stephanie is not just another pretty face, but she has a face that can convey SO MUCH without saying so much as a word. I loved it, and could watch her talk all night - I was so caught up, it was truly wonderful. :-) Here are a few shots I got when I wasn't giggling like a loon, or crying either: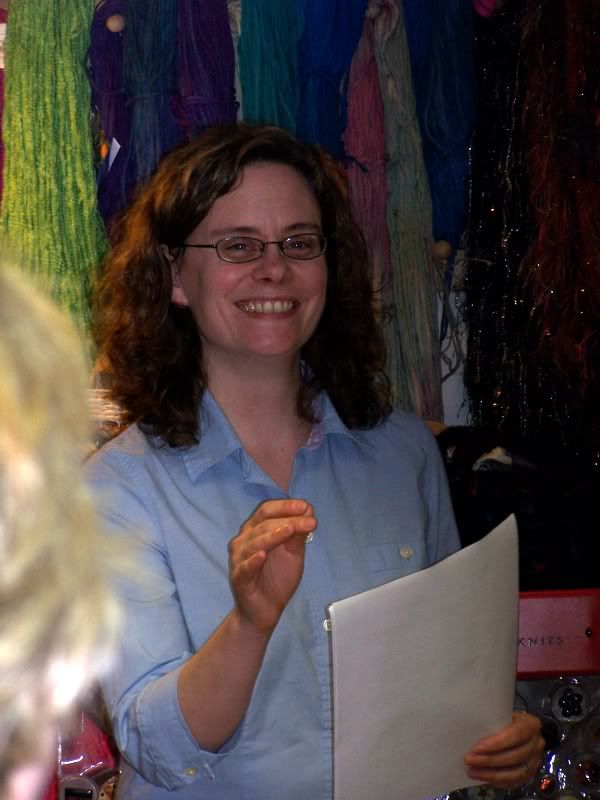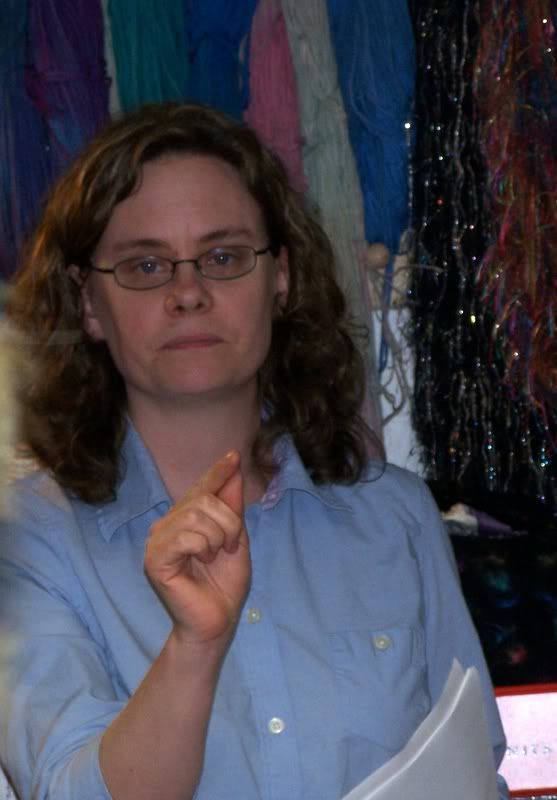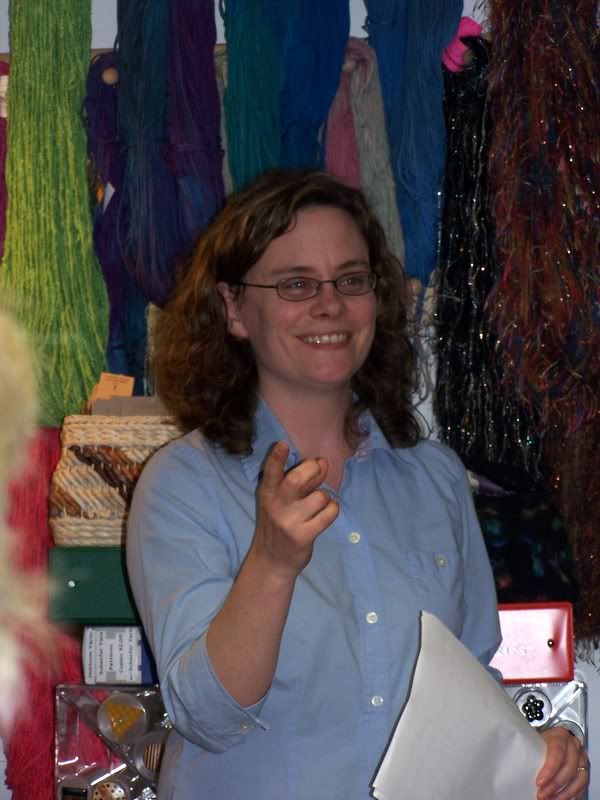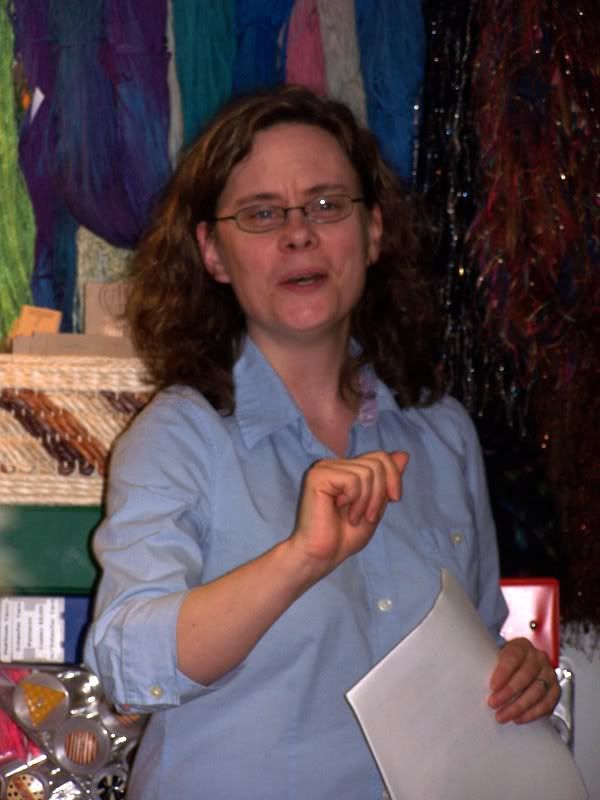 And of Course, on the Heels of the "Martha-Freaking-Stewart" episode of The Yarn Harlot, we have this sign right there in the shop: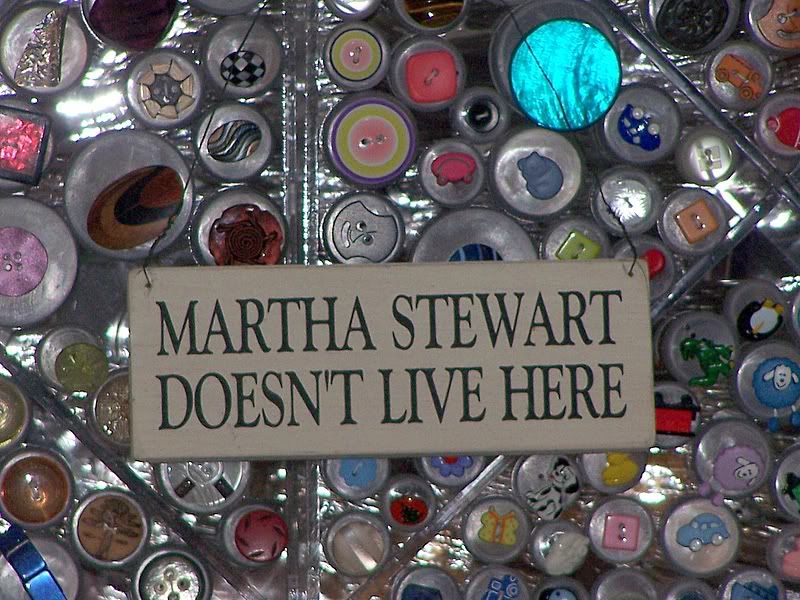 Last but by NO MEANS least, we have The Sweater. Yes, THAT Sweater - Stephanie's Olympic Hardangervidda sweater, and it's even more amazing in person: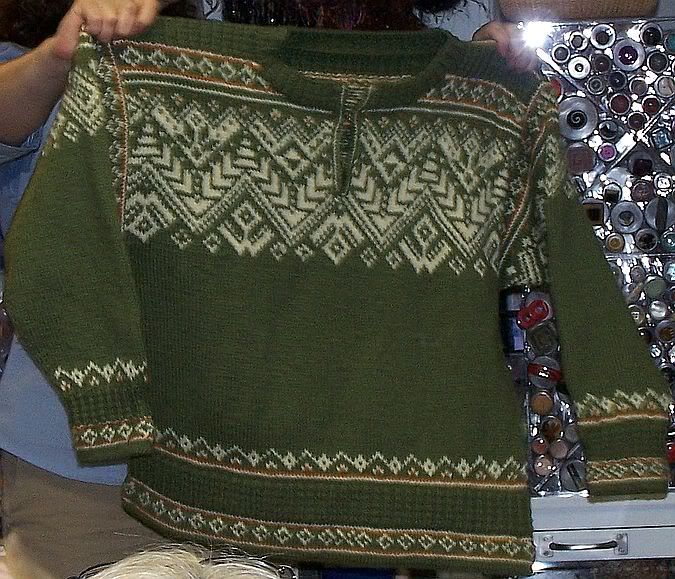 The talk and the questions ended, and then we were allowed at the Wine & snackage (okay, it was only then that I SAW them.), and we got in line for to have our books signed. I had Boo's socks with me, the finished one and the unfinished one, and I actually TURNED THE HEEL and picked up stitches for one gusset while standing in line - YAAY, I can really DO this stuff! :-) Here's where we come to the Mutual Sock Blogging portion of our journey, where Boo's sock got to meet Stephanie, and I got to meet Stephanie's sock: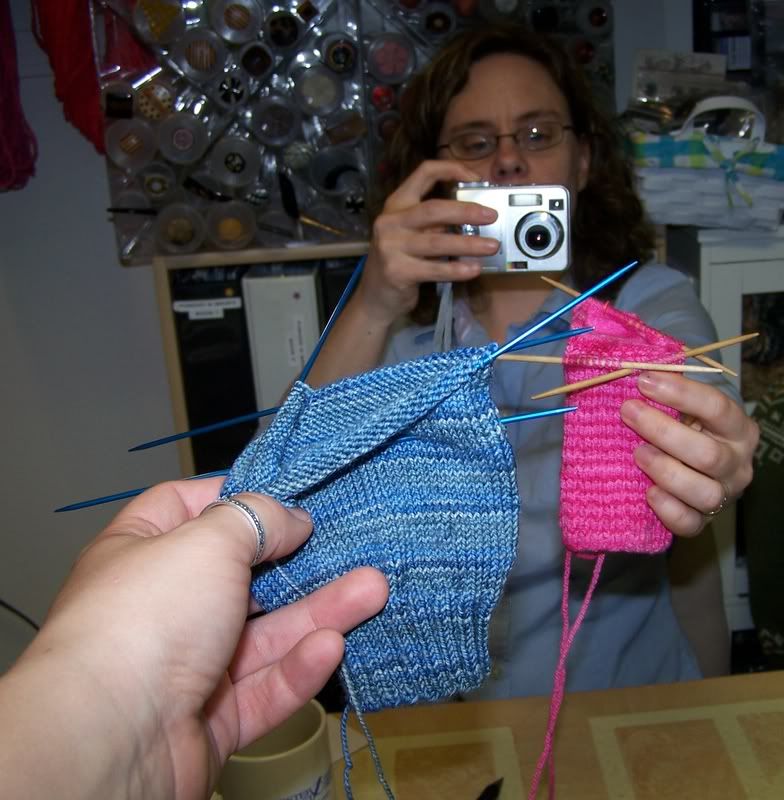 Truly, the next day when I told Boo about it, she just wasn't impressed - but I hope she will be someday. ;-)
The end of our marvelous evening was Priscilla giving in to Fate and buying two of TYH's books, tho not the newer one, go figure. ;-) My dear friend & I had SUCH a blast, and I want to thank the Wonderful ladies at Classic Yarns of North Grafton, MA, and especially Stephanie Pearl-McPhee for a sparkling, Highly Entertaning evening!!