I felt It wouldn't be fair to leave y'all with just a picture of The Stash in it's entirety - I need to explain, give you specifics with pictures. So, without Further Ado, may I present -

The Sum of the Parts:
First - The Stash: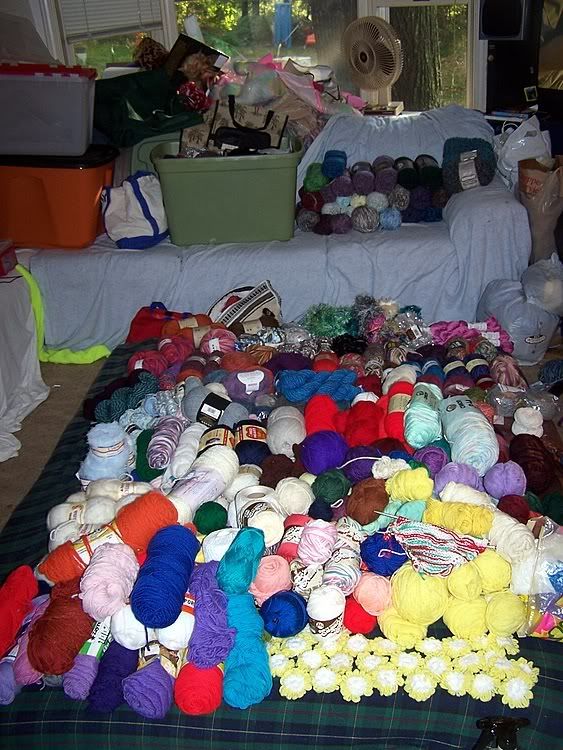 The bags & rubbermaid tubs in the background was where SOME of this was stored. BTW, that's a Queen-sized bed covered in yarn. :D
Now, the specifics - On the couch, we have: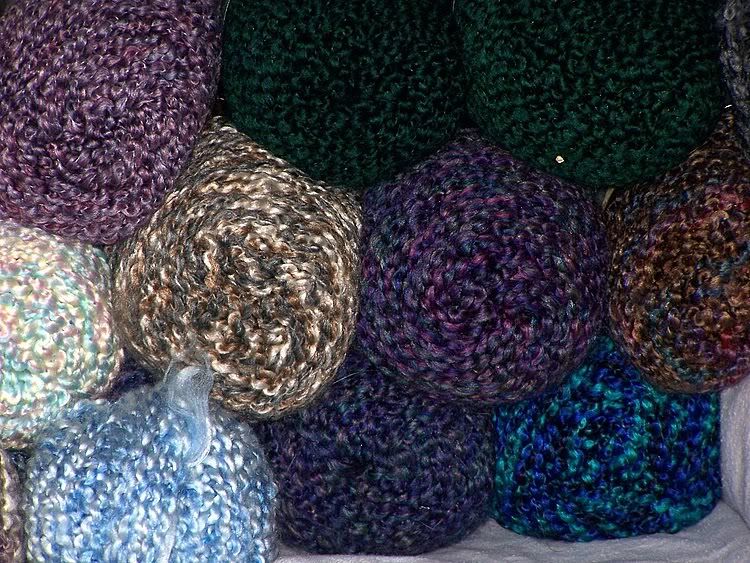 Y'all know what THAT is, right? ;-) Yep - mostly Lion Brand Homespun - soft as the dickens, but can be a PITA to knit with. Still, I do love it. That was back there, plus some Bernat Boucle - nice stuff, Acrylic like the LBH, but not as bad with weaving in of ends, etc.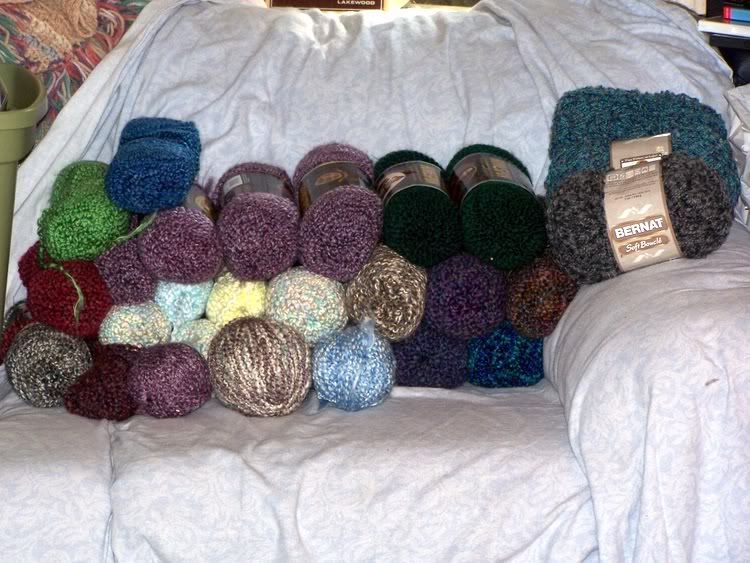 On the back of the bed, we have most of my "Novelty Yarn" - the Lion Brand Fun Fur (and "Festive Fur"), and my Bernat Boa & Bernat Disco - both of the latter, free gifts.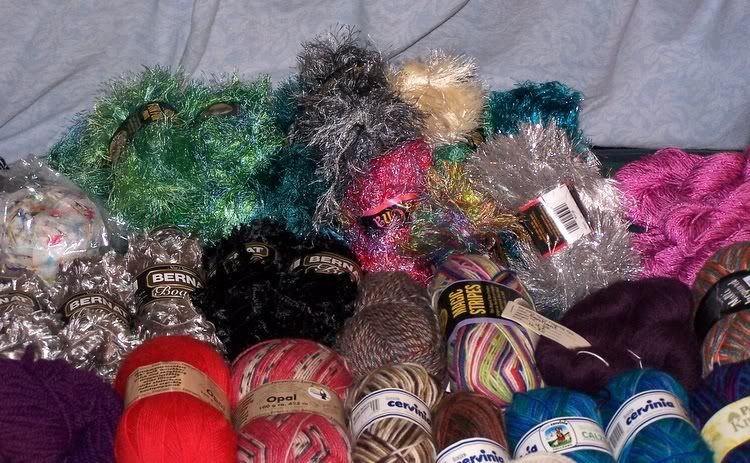 In the middle of the next pic is my Malabrigo: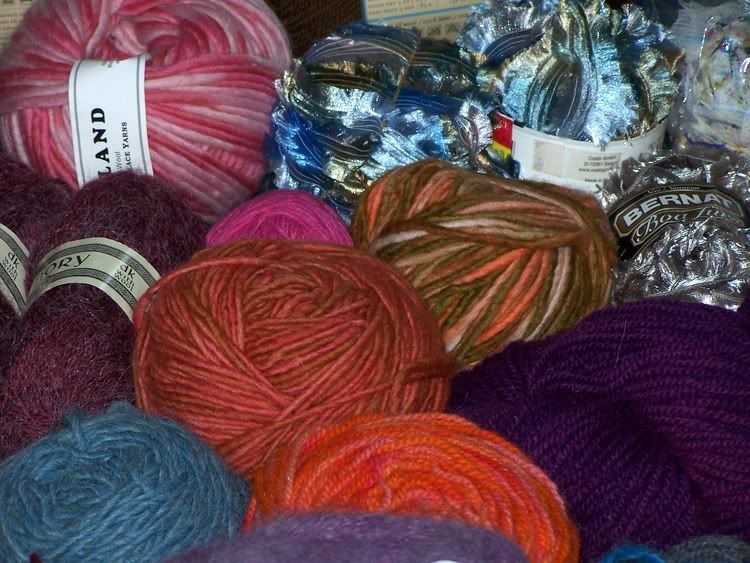 Here's some of my cotton: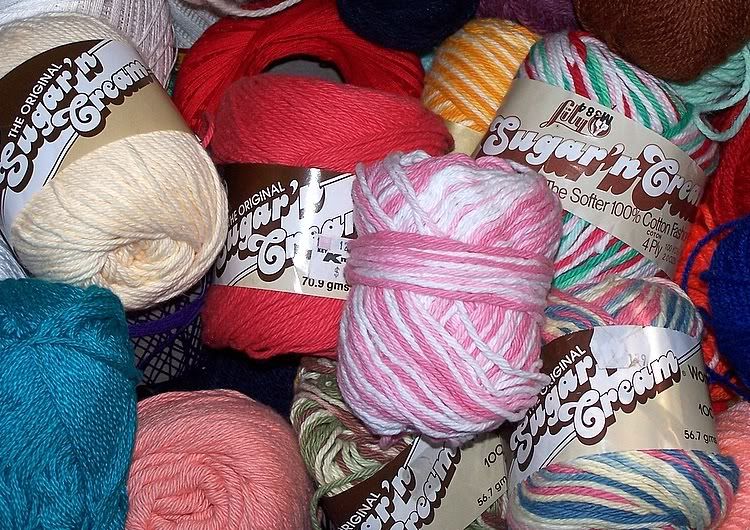 This is some of my sock yarn - the italian sock yarn was gifted to me last Christmas at our SnB Gift Swap - I look forward to using it for myself, perhaps, this year!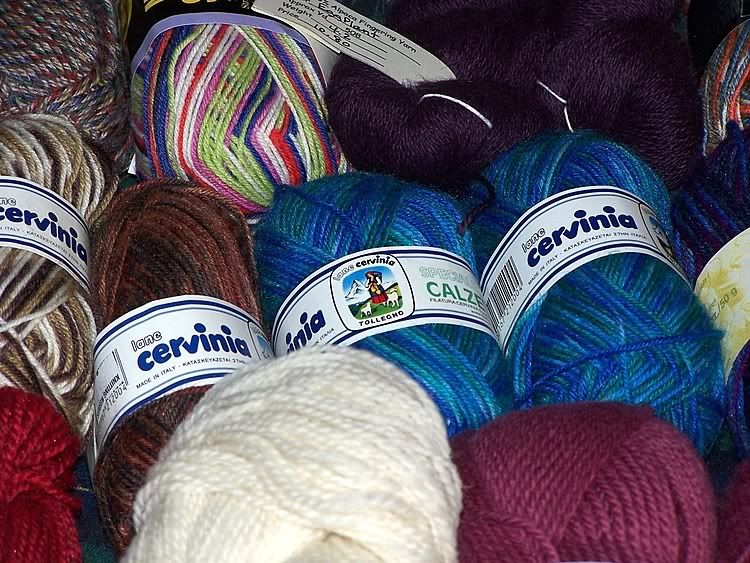 More sock yarn, this time, my Opal: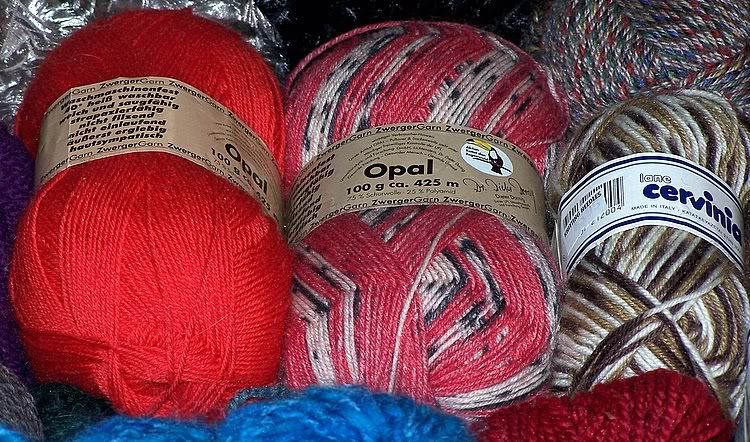 Next, my Berocco Cotton Twist - bitch n'a half to knit with, but beautiful to look at and sooooo soft to touch: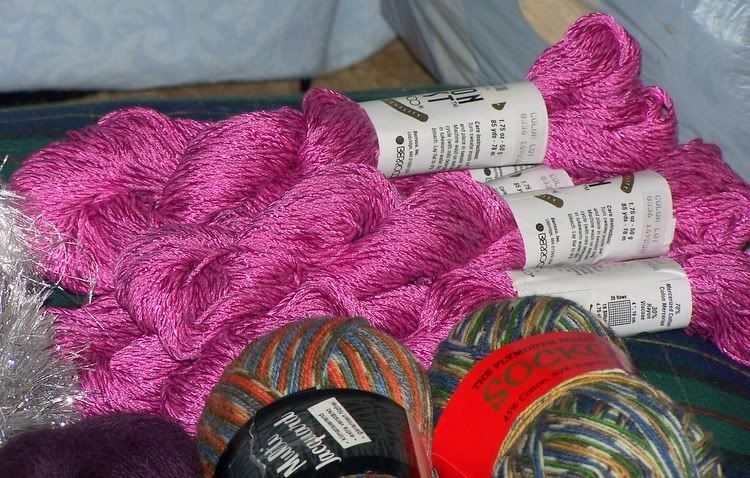 My darlin' Cinderella's (http://www.rindercelly.com/) Cookie Monster Yarn!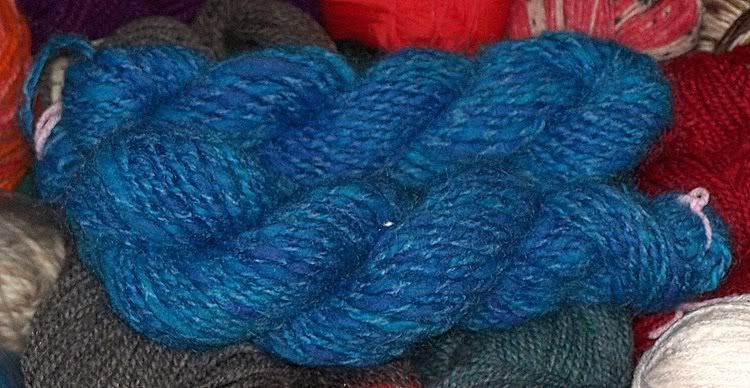 ...I only still have it because it hasn't told me what it wants to be yet....but I'm thinking, either a wild scarf, or a nifty felted bag/hat; stay tuned on that.
...And just to prove I'm NOT a Fiber Snob, here's my yarn made out of teflon. No, really: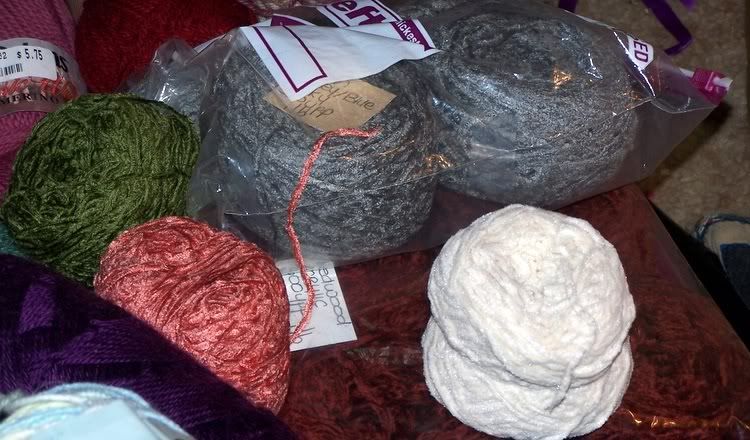 ....it's waaaaay soft.
I even have Red Heart - but they make a coupla super soft varieties now, and they really ARE soft - I used one to make a balaclava for my BIL last year, and he loves it!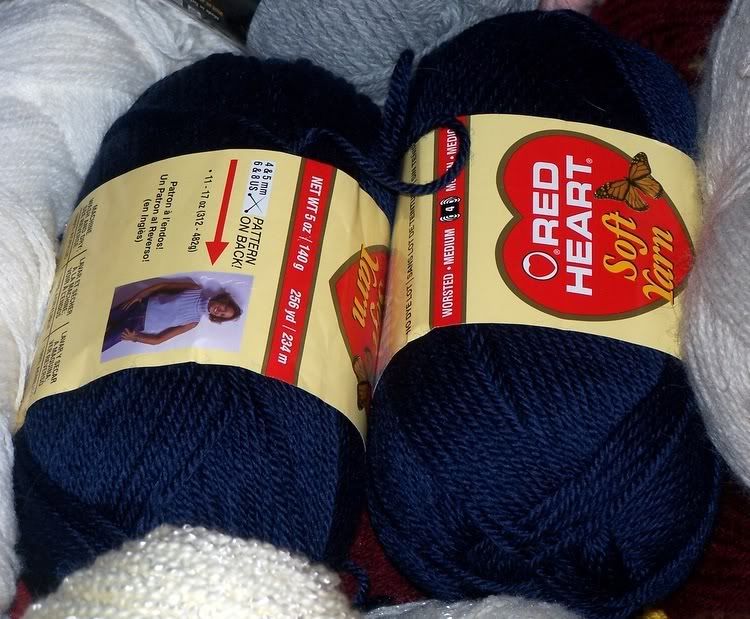 I got rid of a Garbage Bag full of yarn, and this is what's left: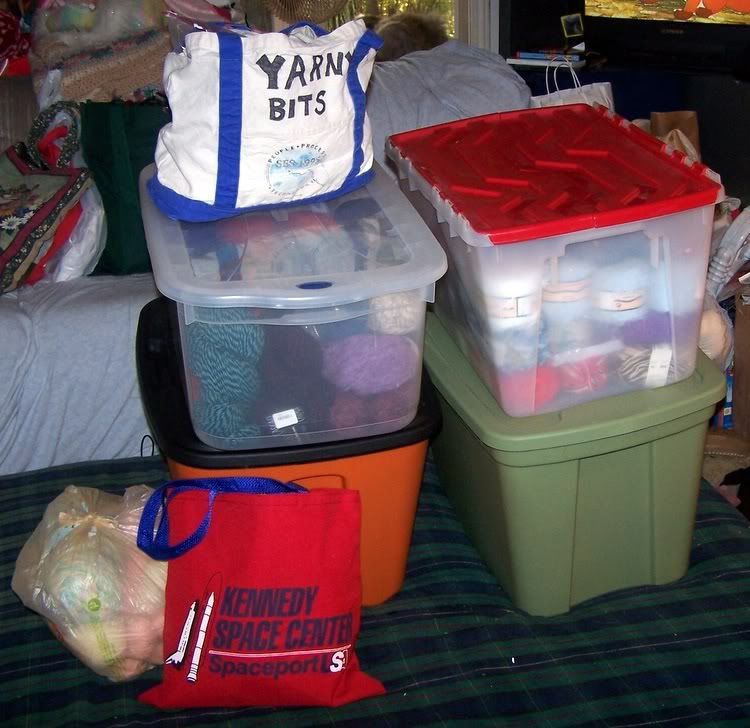 I also have two bags of antique fingering weight wool from my dear OA, but I didn't want to lay that out and chance the cat taking a liking to it.
Like he did to The Stash.
Yea.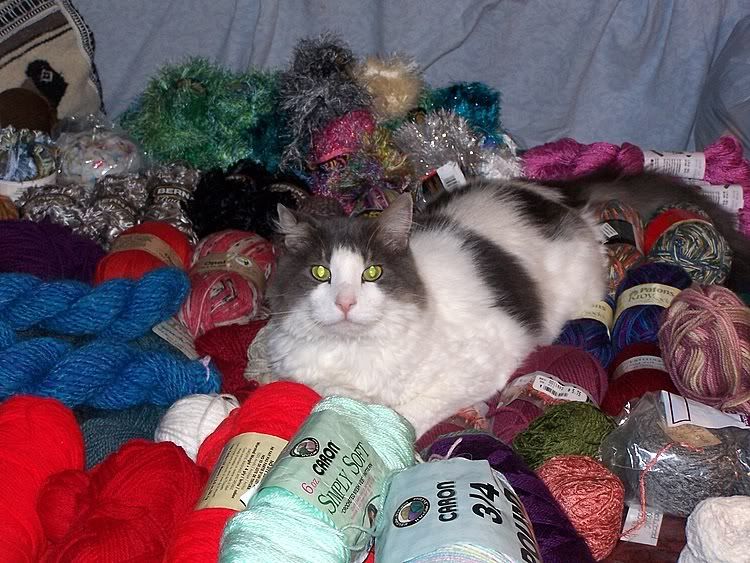 He sniffed...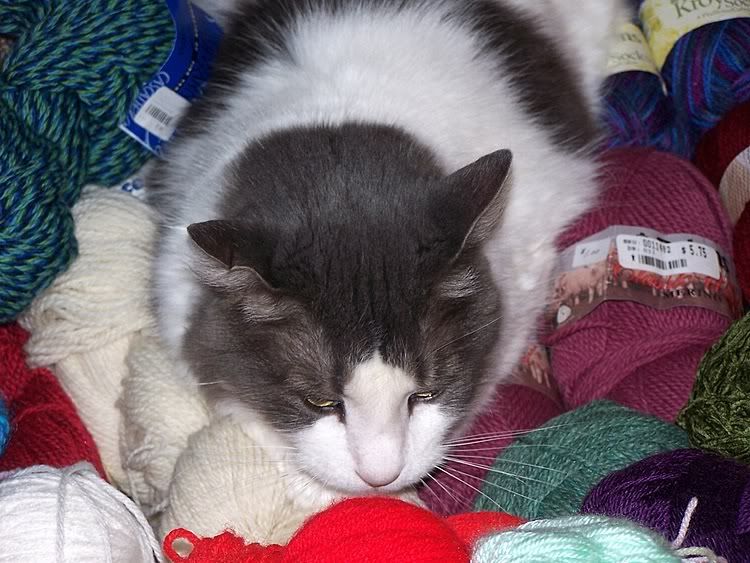 ...yawned...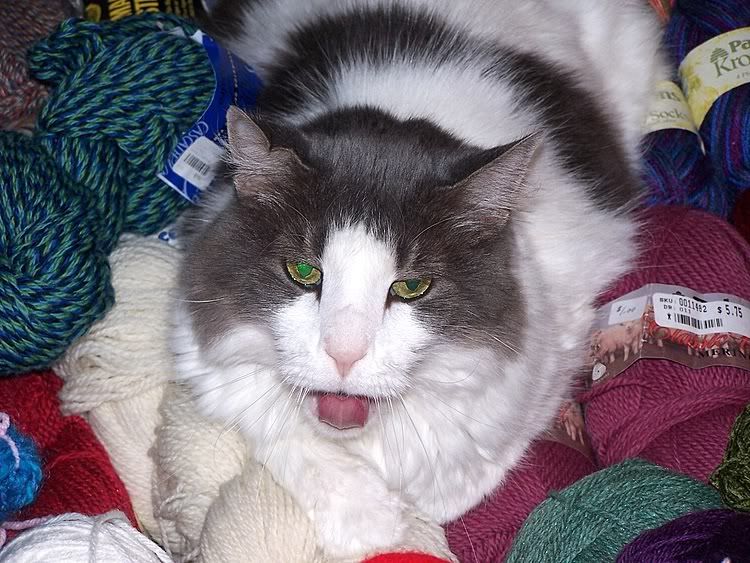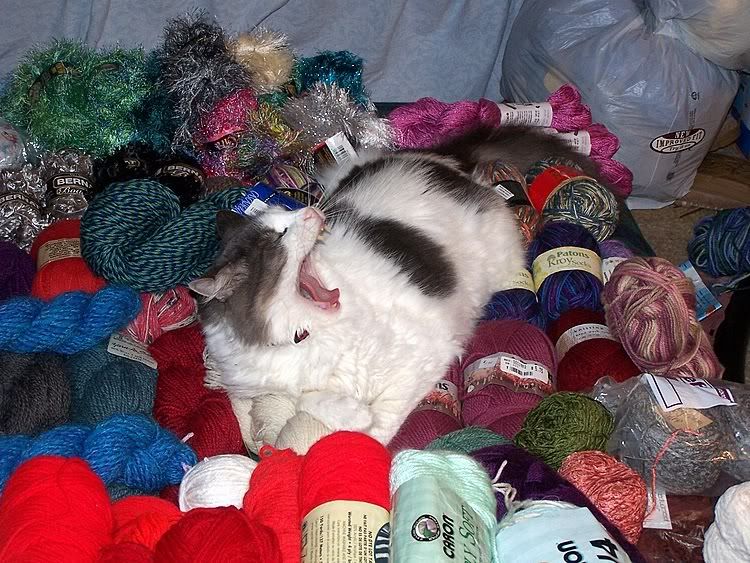 ...Rolled...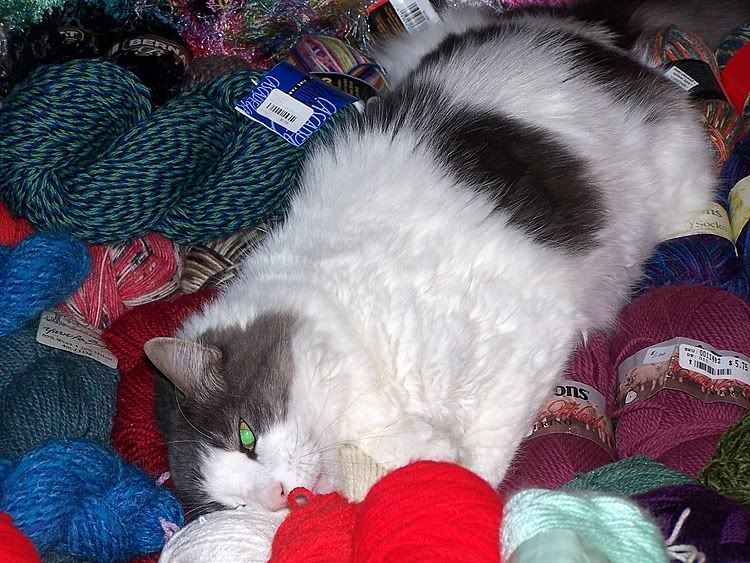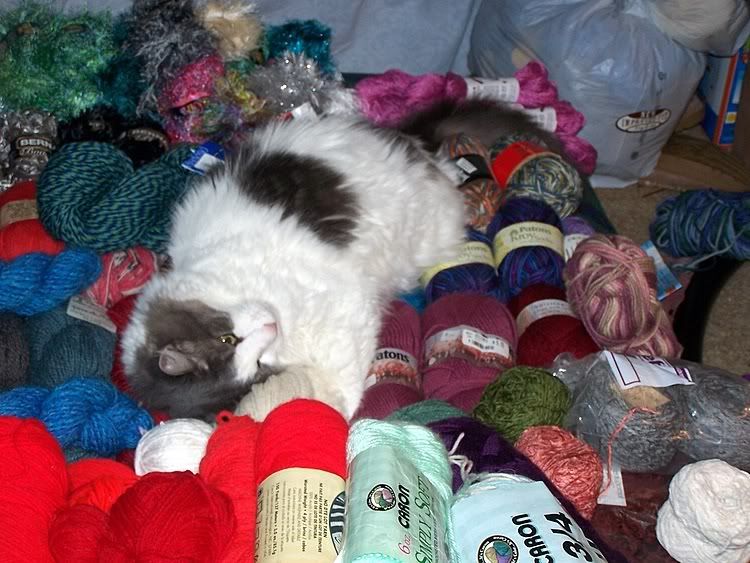 Then gave me the, "What?!?" look when I yelled at him - he'd started to CHEW - and Momma was having NONE of that.